Djabbarov Musa Telman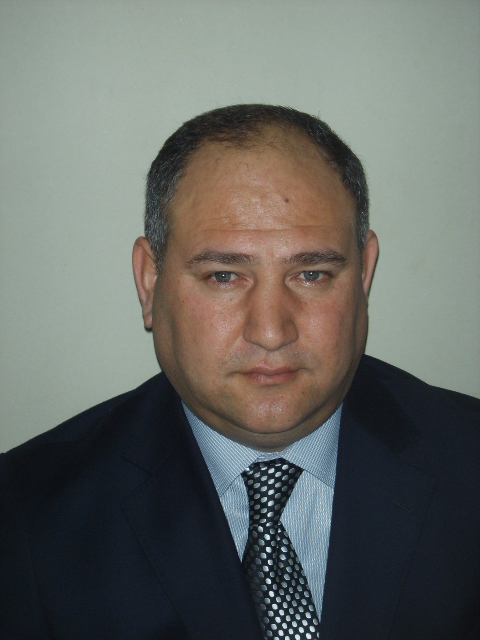 Djabbarov Musa Telman

Cand.Biol.Sci., the senior lecturer, the assistant to the dean
Office number: + (99412) 539 04 41; 539 10 91
E-mail: musa_telman@mail.ru
PERSONAL DATA
Was born in 1969 in area Amasii of Armenian Republuc.
1975-1985 has received an average to formation at village Gjullubulag school.
1988-1989 served in army numbers in Germany.
2007 year has ended Academy Management the State at the President of the Azerbaijan Republic. Married, has 1 child.
EDUCATION AND ACADEMIC DEGREES OBTAINED
1993 –finished biological faculty of BSU 2000 – phD, thesis on a theme: «Upland kserofit vegetation of Talish».
COMPLETE PROFESSIONAL BACKGROUND
1985-1986 - worked as the collective farmer in settlement Gjullubulag area Amasii. Since 1998 to present day works to chair of botany of BSU. Teaching lessons: The morphology of plants, illnesses of vegetable cultures, conducts the general courses on systematization of the higher plants. Author of 127 scientific articles and theses.
PRESENT RESEARCH INTERESTS
Geobotany, Upland kserofit vegetation of Azerbaijan
INTERNATIONAL CONFERENCES, SYMPOSIUMS
2002, 10-14 June Yüzüncü Yıl University Van Turkey.
2002, XVI Intern. Biology congress, Malatya. 2006, IV Balkan Botanical Congress. Sofia, Bulgaria, 20-26 June.
2006, Asian Journal of Plant Sciences 5 (5). 2008, 19 Intern.Biology congress, Trabzon.
LIST OF SELECTED PUBLICATIONS
2004, Uplands mountain-kserofit vegetation of Sheki. The collection of Institute of Botany AN of Azerbaijan, т. XXV, Baku, p. 340-342.
2005, Uplands kserofits of southern macroslope of the Big Caucasus (in repartitions of Azerbaijan). ANAS, Scient.works of Botanika Ins., V.XXVI, Baku, p.165-167.
2006, The useful plants where growin ecosystems of mountainous regions in Azerbaijan. IV Balkan Botanical Congress. Sofia, Bulgaria, 20-26 June, p. 280.
2006, The Phytososiological Characteristics of Ecosystems of Mountain of Tolysh. Asian Journal of Plant Sciences 5 (5) p. 899-904.
2008, Useful plants mountain areas of Azerbaijan. 19 international Biological Congress, on June, 23-27rd, Trabzon.
BOOKS
Flora of pool of the river Nahichevanchaja, BSU, Baku 1996, 248 p. Plant ecology with geobotany bases. BSU, Baku, 1998, 197 p.
Flora and vegetation of the Atropotansky province (in limits Azerbaijan Republics). «Elm», Baku, 2007, 233 p. .
Morphology of plants. Изд. A tank. Гос. University, Baku 2009, 420 with. Systematisation of the higher plants. И BSU, Baku, 1996, 248 p. .